A Brief History:
In November 1977 Sean Daly opened his doors to the public at 34 Henry Street, Kenmare, Co. Kerry. At that time Sean Daly & Co offered Auctioneering/Real Estate services, Insurance & financial services. Since that time the office has grown substantially and now employs a total of 6 staff. Sean Daly & Co has gone from strength to strength and has always been able to adapt to an ever changing world.
On the 1st of February 2004: The real estate section of Sean Daly & Co joined the franchise of Sherry Fitzgerald and the Sherry FitzGerald Daly Kenmare brand was formed. This was an important leap forward for the auctioneering side of the firm. The directors felt that joining the Sherry Fitzgerald franchise would offer our clients properties a national brand and a network of over 100 Sherry FitzGerald offices in which to market their properties.
Sean Daly & Co is still very much involved with the insurance and financial services part of business. We offer our general insurance customers the choice of products from 29 companies. The firm also offers financial products through our 6 life companies.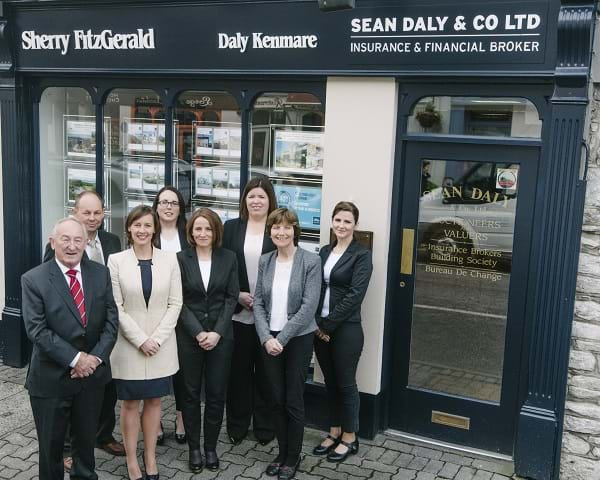 Auctioneers & Estate Agency
Sherry Fitzgerald Daly Kenmare offers a wide selection of property including new homes, holiday homes, 2nd hand residential houses, commercial property, licensed premises and agricultural (forestry & farm holdings).
Geographically our office covers a large area around the Kenmare Bay and West Cork Area. Extending along the Beara Peninsula, taking in Glengarriff, Adrigole, Eyeries, Ardgroom, Lauragh, Kilmakilloge, and Tuosist. Along the Ring of Kerry / Iveragh peninsula the office would cover Kenmare, Kilgarvan, Templenoe, Tahilla, Rossdohan, Sneem, Gleesk, Castlecove, Caherdaniel, Derrynane, Waterville and Ballinskelligs.
The firm has also been able to offer our services for the purposes of valuations, public auctions, arbitration, expert witnesses or rating reviews.
In 2004 Sean Daly & Co Estate agent joined the franchise of Sherry FitzGerald. By joining Sherry Fitzgerald we have added new dimensions to marketing our property portfolio for clients. There are over 100 Sherry FitzGerald offices throughout Ireland which gives our customers access to a wider audience. We provide access to a range of property web site which we advertise all our properties through, www.seandaly.com, www.sherryfitz.ie, www.myhome.ie, www.daft.ie, www.property.ie and the number 1 UK web site www.rightmove.co.uk. We can also provide marketing campaigns in both local and national press. Also as part of our marketing campaigns for high end luxury properties we team up with Sherry FitzGerald Country Homes & Estate & Christie's International Real Estate. This partnership gives sellers of prestige homes in Ireland access to international markets.
PSP Licence 002809:
Back to top
Residential & Commercial Sales
Sherry FitzGerald Daly has a team of 4 licenced Estate Agents. Sean Daly who founded the firm in 1977 and has 45 years of experience. John Daly joined the firm in 1997. Suzanne Teahan in 2002 and Elaine Daly in 2005. This experienced team has 117 years of experience and knowledge in selling and marketing both residential and commercial properties in the wider Kenmare Bay Area.
For enquiries contact Elaine Daly at elaine@seandaly.com
Back to top
Valuations & Appraisals:
Our office also offers valuations for all the main banks. Sherry Fitzgerald Daly Kenmare is on the valuation panels for Bank of Ireland, Allied Irish Banks, Permanent TSB, EBS, Haven Mortgages. We liaise with solicitors in regard to appraisals for probate and transfer purposes. We offer our services to individuals in regard to valuing their property for sale or other purposes. The office also has experience with valuations in ground rents, foreshore licenses and commercial rates. John Daly is a Registered Valuer with the Royal Institute of Chartered Surveyors (RICS). Member of the Society of Chartered Surveyors (SCSI)
For enquiries contact John Daly at john@seandaly.com
Back to top
Residential Lettings:
Sherry Fitzgerald Daly Kenmare offers both a Letting Only and Management Service.
"Letting Only Service". The service includes free rental appraisal, listing & marketing your property, tenant screening, viewings, lease agreement, meeting the tenants, organize initial rent payments. The landlord assumes the responsibility for managing the tenant from the time the tenant moves in.
"Management Service" all the service included in a letting only service with the addition of renewal of leases and full management of the property. Some other important aspects of the management service include organizing repairs, day to day liaising with the tenants as well as tenancy registration & transfer of utilities. The Landlord does not have any dealings with the tenants and has the benefit of the rent lodged into their account every month.
For enquiries contact Suzanne Teahan at suzanne@seandaly.com and she will guide you through both services and help you choose the standard of service that suits your needs best.
Back to top
Commercial Lettings:
Suzanne Teahan also concentrates on our commercial lettings. Suzanne advises on the purchase, sale, leasing and acquisition of all types of commercial property. We provide advice to property owners, occupiers, investors, developers and public sector bodies. Our objective is to add value and deliver results to match client's requirements.
We act on behalf of clients to advise on the implementation, negotiation and formulation of rent review procedures as contained in commercial leases. We provide commercial valuations, appraisals and due diligence advice, we deal with a wide range of properties; shopping centre, out of town retail warehousing, offices, town centre units and land leasing.
Our service to Landlords includes rental appraisals, listing and marketing the property, tenant vetting, viewings, agreeing lease terms, organizing utility transfers and payments.
Contact Suzanne on suzanne@seandaly.com
Back to top
Insurance Broker:
Sean Daly & Co. still offers a comprehensive selection of Insurances as a Broker for the leading firms in Ireland. Sean Daly & Co ltd holds an agency with the following Non Life Insurance Companies
Zurich, Aviva, Allianz, AXA, , RSA, Willis, Wrightway, Liberty, Kenn-Co, Dolmen, X S Direct, Aqua Broker, Frost Insurance Ltd, Presitge, Travellers, Capital Insurance, Ornella Insurance, Footprint Underwriting. Allied Risk Management, ARB Underwriting ltd, Aiken & Co. AON, IPORS Real Estate Ltd. OBF Insurance Group, MIS Claims ltd, Optis Insurance, Broker Options, Special Underwriting Services, Robertson Lowe. Securus Insurance (29)
Grainne O'Driscoll, Fionnuala O'Shea & Helen McDwyer will assist and offer quotes for your car insurance, commercial vehicle insurance, house insurance, holiday home insurance, commercial insurance, Employers and Public Liability, Travel insurance.
Back to top
Financial Consultant & Services:
Sean Daly & Co ltd holds an agency with the following Life Insurance Companies Zurich, Aviva, Irish Life, Standard Life, Royal London, New Ireland Assurance (5)
John Daly (QFA) (APA Personal & Commercial General Insurance) will assist with advice in relation to mortgage protection, life assurance, serious illness cover and your pension options. John will also advise you on lump sum investments or savings plans, which can be placed in managed funds, unit linked funds
Sean Daly & Co ltd holds a Deposit Agency with the following Financial Institutions. Permanent tsb (1)
Sean Daly & Co is regulated by the Central Bank of Ireland.
Back to top